Carrying the Banner: A Newsies Celebration
In 1991, cameras started to roll on a new Disney movie called Newsies.
Little did any know that this simple project would eventually reach such new heights that Disney decided to take another step with it twenty years after its release.
Movie Production
It all starts with Bob Tzudiker and Noni White. In the 1980s, the two were looking for an idea to write a movie. What they soon came up with was a movie based on the true story of the 1899 newsies strike.
After writing the first draft, Bob and Noni pitched the film to every studio in Hollywood. But there was a lot of resistance because they thought the idea of a period piece starring children wouldn't work. But fortunately, they were able to get Disney onboard.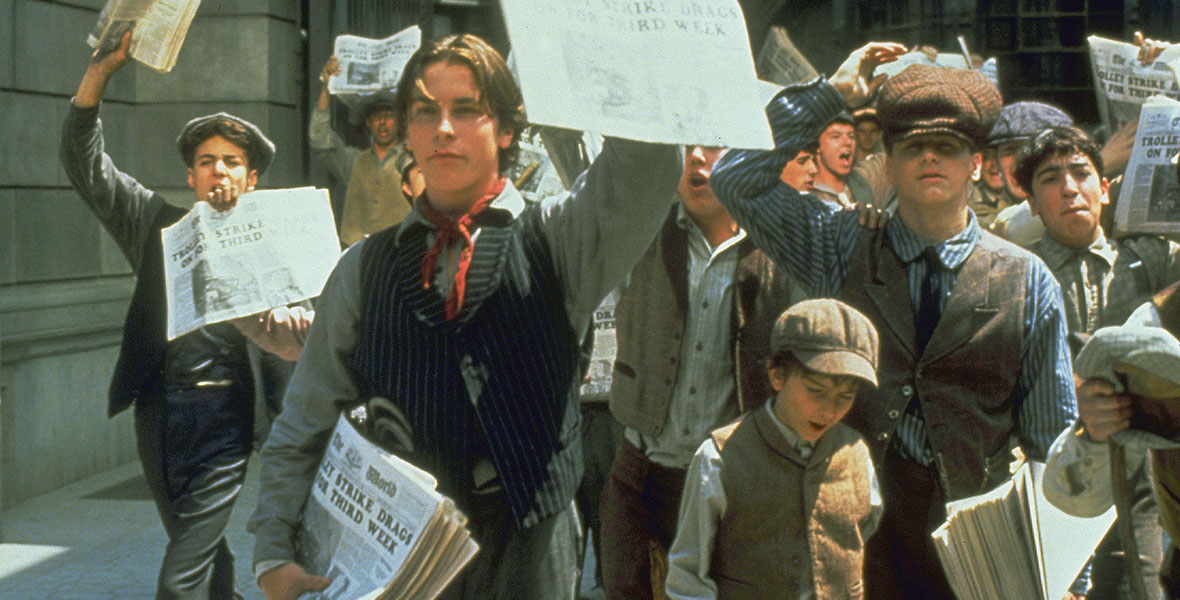 Believe it or not, the film wasn't supposed to be a musical at first. It was supposed to be a historical drama. But chairman Jeffrey Katzenberg decided the film should be a musical since Disney had success with musicals in animation with The Little Mermaid.
For the songs, Disney brought in Alan Menken to compose them. Since lyricist Howard Ashman was too sick to work on this project, Alan decided to work with Jack Feldman since the two knew each other since the 1970s.
To star in the film, they went on a wide search for talented kids that could dance and sing. For Jack Kelly, Disney chose 17-year-old star, Christian Bale.
At first, he said he wasn't the singing and dancing type, but he was able to accomplish it after he and the other newsies went through tough training.
Newsies had its release in April of 1992. And despite all the hard work put into the film, it was not a success and basically came and went. But, when the film was released on video and later aired on Disney Channel, it became more and more popular to the point where it would have one of the biggest fan bases for any film.
Despite the film's struggle, the people who worked on it would still go on to bigger things. But the story doesn't stop there.
From Movie to Stage
When Bob and Noni were writing the film, they already envisioned it becoming a Broadway stage production. By the time Disney got into the live theater business in 1994, Newsies was one of the most demanded to be brought to the stage.
Even after a few disastrous table readings in 2008, two years later, a more successful reading with a stronger script was held. It impressed Disney that they went ahead with it.
The stage production of Newsies had its premiere in New Jersey's Papermill Playhouse in October of 2011. Since the musical was very well-received, they decided to take a chance a bring it to Broadway. At first, it was for a limited run, but it proved to be such a success, it became open-ended.
Before it ended its run in 2014, the musical won two Tony Awards, including Best Score. And now after its U.S. tour, Disney is ready to bring it to the London stage.
So, the story of how the newsies rallied against the newspaper giants and won their rights will continue to inspire and appeal to audiences even after 30 years since the movie's release and 10 years after the musical's release.
Thanks for visiting MickeyBlog.com! Want to go to Disney? For a FREE quote on your next Disney vacation, please fill out the form below and one of the agents from MickeyTravels, a Platinum level Authorized Disney Vacation Planner, will be in touch soon!